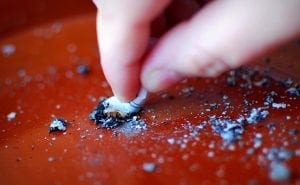 You might have wondered how hypnosis helps people stop smoking. Many people who visit me in my Utah offices ask the same question about hypnosis.
There are two parts of your mind: the conscious mind and the subconscious mind. Most people already know how to harness the power of the conscious mind: they know how to make a decision.
And when you stop smoking, you will need to use all the power of your conscious AND your subconscious mind.
First, you need to come a conscious decision to stop smoking. Nothing will replace the need to decide, to really decide to quit, to take all-out massive action.
I had a client that was a Marine who said it best, "It is like my commanding officer said to me during the war, 'Marine, defend this beach. Nothing gets across. Nothing.' "
When you're really ready to draw a line with your smoking habit and defend that decision no matter what, then you need to harness the power of your whole mind: conscious and subconscious.
The problem is that no one has ever taught you how to do that effectively, so most smokers end up fighting themselves as they make the quit attempt. They struggle more than they need to struggle. Maybe you know what that is like.
The most dangerous enemy is the enemy inside.
Some experts estimate that the subconscious mind represents about 80-90 percent of all of your mental resources. So trying to quit without your subconscious mind on board is like fighting Mike Tyson with both your arms tied behind your back.
Hypnosis helps you unleash the power of your subconscious mind.
That is why one recent client said this after I taught him to use hypnosis to stop smoking: "I still had to work at quitting, but this is way easier than it had ever been before. I would have used hypnosis a long time ago to stop smoking if I had known it would help this much."
Hypnosis helps a lot, but that doesn't mean there isn't anything for the conscious mind to do.
Hypnosis helps REDUCE, but not eliminate the urges to smoke and LESSENS the cravings and anxiety.
However, it probably will not completely eliminate the urges or the anxiety or the stress when you stop smoking, which is why the conscious mind also plays a critical your in your success with your stop smoking with hypnosis plan.
For example, when you go to the testimonial page of my website http://northernutahhypnosis.com/testimonials/ , you will read accounts from several smokers who found that hypnosis made quitting smoking much easier than they imagined. But they all still had to do their part. This is a common response.
If you live in Utah and would like to schedule a low cost consultation find out your readiness to stop smoking with hypnosis, call me at my toll free number 888-479-4421 or fill out the contact form below. If you are ready to get going, you can also start by purchasing here:
++++++++
William Wood's mission is to help people transform their lives and to utilize both their conscious and subconscious minds. He works with hypnosis and NLP to help people stop smoking in his Ogden, Utah, office. He also works with clients nationally and internationally through Skype and Phone Consultations.